Tri-County Electric Cooperative is here to serve our member-owners and our communities.
Phone: 817.444.3201
Fax: 817.444.7679
---
Need to reach us, no problem! Send us an email through the form below, give us a call or visit one of our offices.
If you need to report a power outage, please click here. 
Inquiries submitted through the Contact Us form will be addressed during regular business hours by our Member Service team.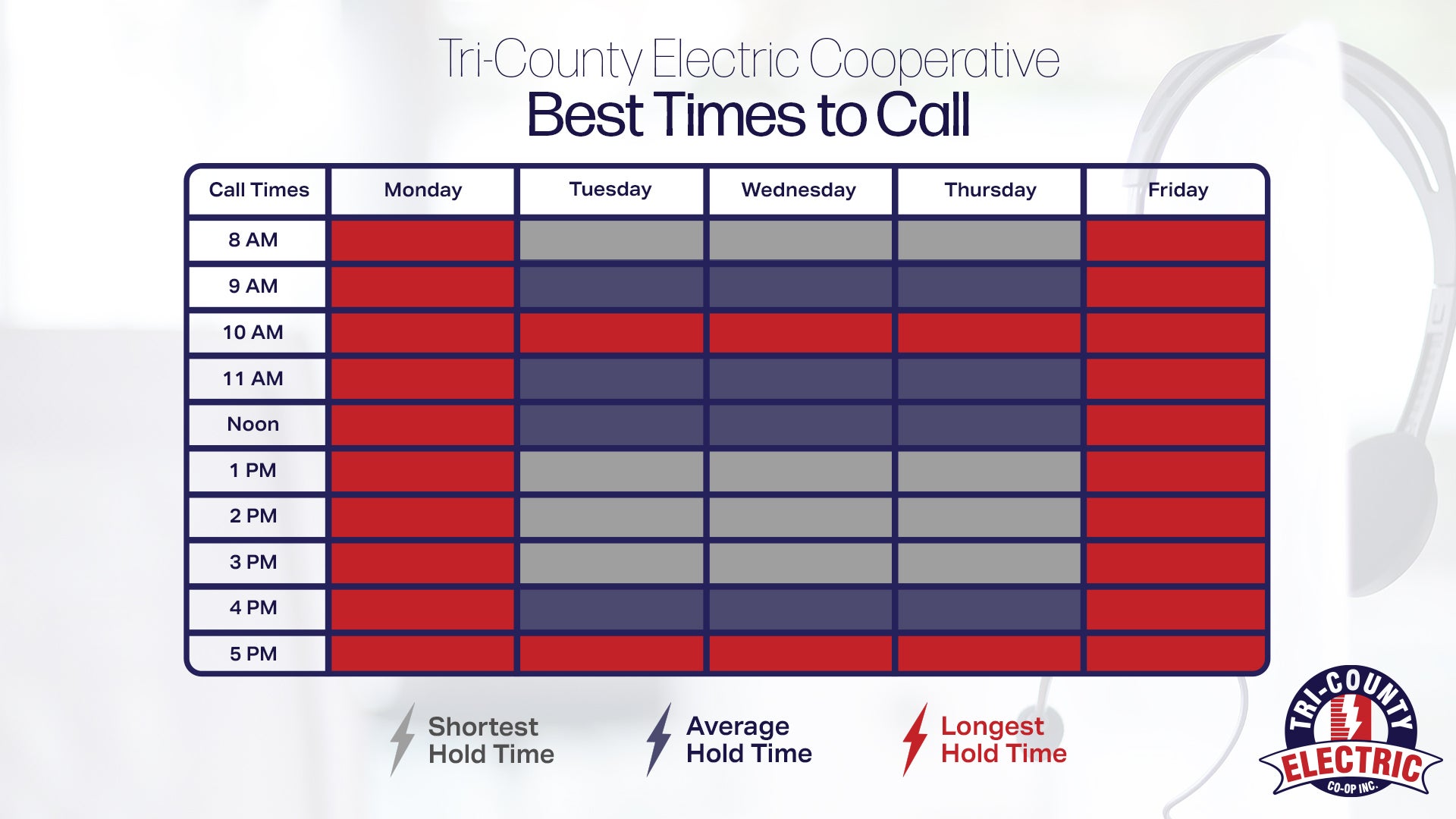 Chart is based on normal business hours and does not include holidays or major outages.
Our Offices
Aledo, Main Office
200 Bailey Ranch Road  |  Aledo, Texas 76008
Lobby hours: 9 a.m. to 3 p.m., Monday-Friday
Payment Kiosk & Night Drop Available
Phone: 817.444.3201  |  Fax: 817.444.7679
Azle Office
600 NW Parkway | Azle, Texas 76020
Lobby hours: 9 a.m. to 3 p.m., Tuesday-Thursday
Drive-Through Window & Night Drop Available
Phone: 817.444.3201 | Fax: 817.444.7679
Granbury Office
1623 Weatherford Highway  |  Granbury, Texas 76048
Lobby hours: 9 a.m. to 3 p.m., Tuesday-Thursday
 Night Drop Available
Phone: 817.444.3201  |  Fax: 817.444.7679
Keller Office
4900 Keller Hicks Road  |  Fort Worth, Texas 76244
Lobby hours: By appointment only (use the Contact Us form)
Drive-Through Window & Night Drop Available
Phone: 817.444.3201  |  Fax: 817.444.7679
Seymour Office
419 N. Main Street  |  Seymour, Texas 76380
Lobby hours: 9 a.m. to 3 p.m., Tuesday-Thursday
Night Drop Available
Phone: 817.444.3201  |  Fax: 817.444.7679
Quote
Taking Care of our Member-Owners

Tri-County Electric Cooperative's Vision